V4DC205 American Black Walnut, Smooth Sanded UV Oiled Rustic Bevel Edged Plank
Wide planks of American Black walnut are sanded to a luxuriously, silky smooth finish and sealed with coats of UV cured natural oil. The resulting floor is makes the perfect accompaniment to both sumptuously designed interiors and stripped down minimalist spaces. The extra wide boards are the perfect canvas to display the wild swirling grain pattern, so characteristic of black walnut making this floor a feast for all your senses.
Installation Basics
V4DC205 is a tongue and grooved board which can be installed as a floating floor on underlay or fully bonded with floor adhesive to the subfloor. Read more about Installation here.
Care and Maintenance
This floor is finished with UV cured Danish oil. The UV curing process produces a hard wearing oiled surface which needs less maintenance than a traditional oiled floor. Read more about how to maintain V4 products here.
Environment
This floor is FSC® 100% certified. All V4 Wood flooring is milled from responsibly sourced timber meeting all European Timber regulations. Read more about our environmental approach here.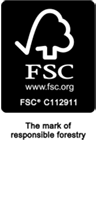 .